If you want to receive an email when someone replies to your post there are 2 ways to do this.
The first way is when you are making your post. Below where you write your post there is a tick box that you can tick in order to receive notification of replies: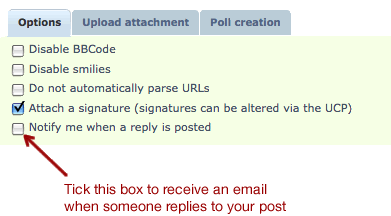 If you have already posted and wish to receive replies, or you want to "watch" a topic, scroll to the bottom of the page (within the topic you wish to watch) and you will see an option "subscribe to topic". Press this button and that will do the same thing. If someone replies to this topic you will get an email.