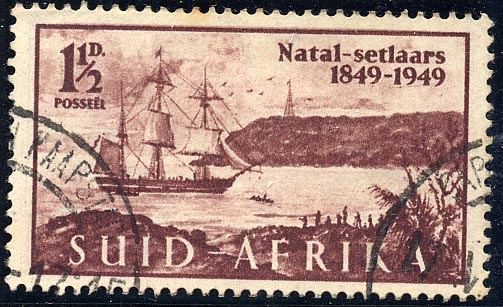 South Africa has issued a bilingual pair of stamps to commemorate the Natal settlers of 1849. Actually, Englishmen had made their homes at Port Natal much earlier, planters having settled there in 1824, and the province was annexed in 1843 by the British Government as a means of keeping the peace between emigrant Boer farmers from the Cape and the native tribes. However, large-scale settlement in Natal did not take place until 1849, when an emigration scheme operated by a London Irishman, Mr. Joseph C. Byrne, son of a Dublin cattle dealer, interested Government circles.
Byrne's offer to emigrants seemed quite generous. For a single payment of £10 an adult emigrant was to receive his passage to Natal and a grant of 20 acres of land upon arrival, the land being guaranteed by the British Government. The Emigration Commissioners were to receive a deposit of not less than £1,000 from Byrne, and in return he was to receive credit for a like amount in the purchase of land in Natal. In addition, as his share of benefit, Byrne was granted large tracts of land which he could sell to the more wealthy settlers if he so desired. The scheme's promoter had to make his own arrangements for getting the settlers to South Africa, but all intending emigrants had to be approved by the Emigration Commissioners before being allowed to sail.
The snag in the scheme was that the emigrant did not realise, and could not know, that 20 acres was too small a holding of land to be commercially profitable, even if it had been ready for planting and was suitable for growing. Only too often the land was unfit for growing anything. However, many persons fell for Byrne's scheme and, thinking he was a responsible agent for the British Government, packed his ships. First of these vessels was the Wanderer, of London, a brig of 173 tons, built at Prince Edward Island in 1847, her owner and master being H. Sutton, of London. She sailed from the Thames on January 22, 1849. Her arrival at Port Natal is depicted on the stamp, but in this picture of her off the Bluff it will be noticed that the artist has changed her rig to that of a three masted barque.
Byrne chartered vessels irrespective of whether or not they were suitable for the Natal run. Most of them were small brigs or barques, with little or no provision for the health and convenience of the passengers. They sailed to no fixed schedule, and all too frequently ran short of provisions and water. Their voyages averaged about 100 days, and many of the trips must have been sheer misery for the unfortunate steerage emigrants.
Over 2,000 settlers were carried to Natal as a result of Byrne's scheme— an important step in the colony's development—and the stamp commemorates the centenary of this pioneering venture.
SG127 Sea Breezes 9/49